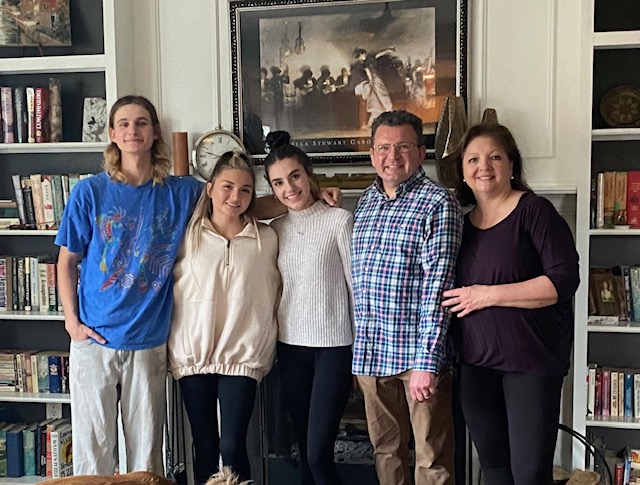 Dr. Jerry L. Risser
Born in northern Indiana, Dr. Jerry Risser grew up in the Midwest before his move to Texas, where he attended high school and completed his Bachelors degree in Veterinary Science (1989) and his Doctor of Veterinary Medicine degree at the College of Veterinary Medicine, Texas A&M University (1992). He returned to Indiana after graduation, practicing in group practices in Bloomington and Fishers before launching Fall Creek Veterinary. Dr. Risser loves the opportunity  for "one-on-one" time with his clients and patients, and especially the role he can play in sharing the most up-to-date and helpful information available to help people best care for their pets.
Though Dr. Risser is excited by advancements in all areas of veterinary medicine, special interests include dermatology, endocrinology, and surgery, particularly soft-tissue procedures. His professional memberships include the American Veterinary Medical Association, American Animal Hospital Association, and Indiana Veterinary Medical Association (IVMA). He was the past president, and is a current member, of the Central Indiana Veterinary Medical Association and the 2015 IVMA President. He has been involved with the Hamilton County Animal Task Force, been a recipient of the 2013 President's Award and 2021 Volunteer Award from the IVMA, and been a preceptor for a Shelter Medicine course with Indiana University. Dr. Risser 's community involvement includes the Marching Pride of Lawrence Township, and he is on the board of the KidsFirst foundation, which works in the area of international adoption and orphan care. As a proud Texas Aggie, he his current president of the Central Indiana Texas A&M Club.
In May of 2011, he completed a Master of Arts in Bioethics degree from Trinity International University, in Deerfield, Illinois, and is working toward an MA in Theological Studies now. He has delivered an animal welfare lecture at the American Scientific Affiliation, where he is a member.
Dr. Risser's wife, Rebecca, is a Speech/Voice Pathologist with IU Health. They have three children: son Jameson, a freshman at Michigan Technological University, and daughters Laine, a freshman at Central Michigan University, and Lydia, a junior at Lawrence North High School. The Risser family has four dogs, Pippa, a 9-year old who is a mix of a zillion breeds that include Boxer and Irish Setter, and is a happy, bouncy creature, Brecken, a 3-year old Miniature Australian Shepherd, Tima, a 2-year old Sheltie, and Scarlett, a  1-year old "Red Fox" Labrador Retriever.
In time away from practice, Dr. Risser enjoys gardening/ landscaping, bicycling, reading, and travel (or at least thinking about it). You can e-mail at drrisser@fallcreekvet.com.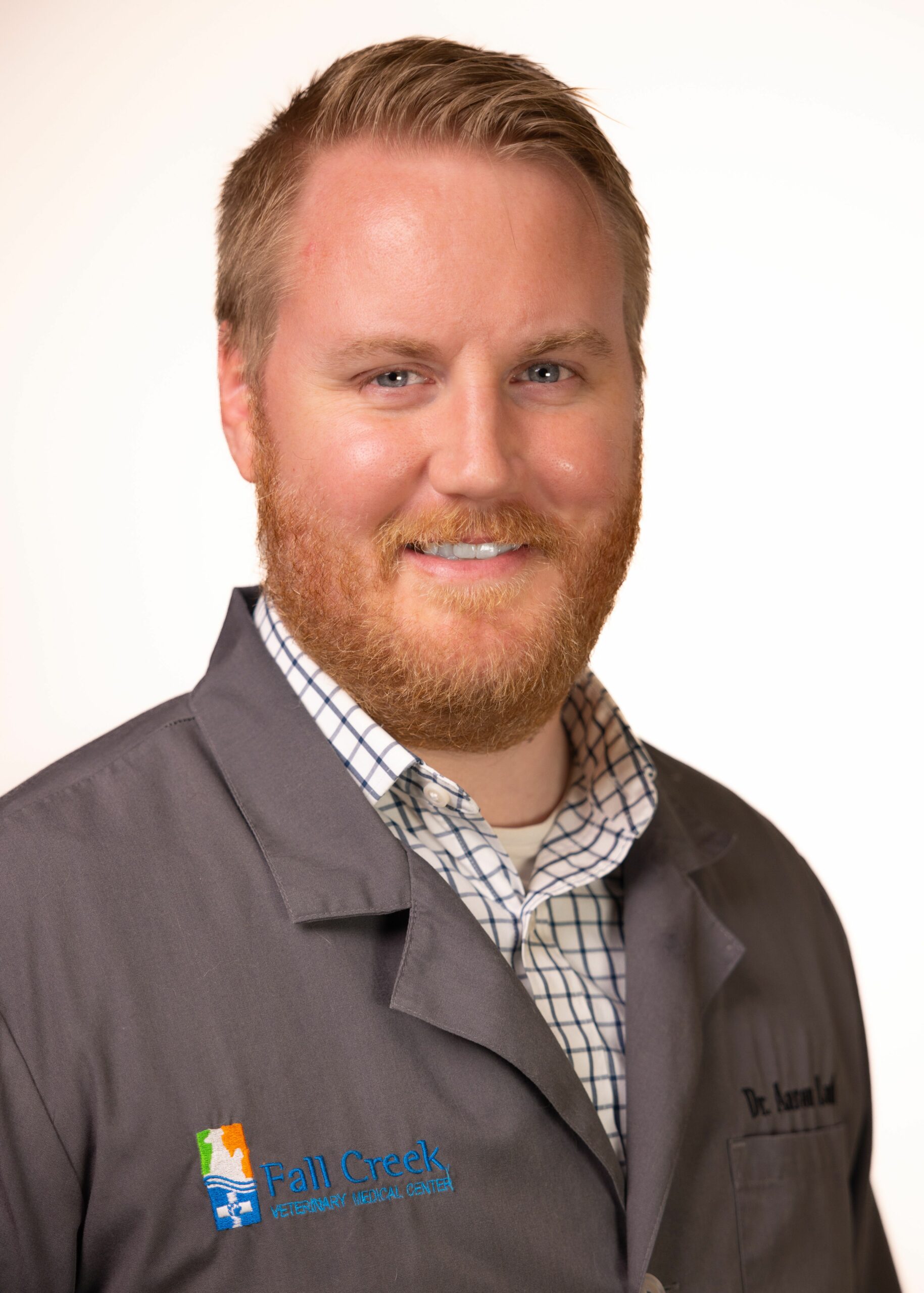 Dr. Aaron M. Luth
Dr. Luth was born in Lafayette, Indiana and is a native of Attica, Indiana. Following high school he attended Bradley University in Peoria, Illinois where he graduated in 2010 with a Bachelor of Science degree in Biology. He then earned his Doctor of Veterinary Medicine credentials from Purdue University in 2014. He enthusiastically joined Fall Creek Veterinary Medical Center as a full-time Associate Veterinarian in June of 2014. All have enjoyed his medical skills, ready smile, and warm professionalism. He became a part-owner in the practice in 2021.
Dr. Luth's largest areas of interest in the veterinary field include small animal internal medicine, surgery, dentistry, and ultrasound. He, among our doctors, exclusively performs ultrasound services. When not practicing veterinary medicine, Dr. Luth enjoys various hobbies including drawing, painting, and woodworking, and has published medical illustrations. He also enjoys spending time outdoors, with particular interests in both freshwater and saltwater fishing, waterfowl hunting, and shooting sports. He and his wife, Megan, were married in 2017, and reside in Noblesville. They have two beautiful daughters: Caroline, born in 2019, and Margot, born in 2021.
 
The Luths have two dogs: Lucy, a 10-year old golden retriever, and Poppy, a cavapoo that just celebrated her third birthday.
Dr. Luth is a member of several local and national veterinary organizations. These include the American Veterinary Medical Association (AVMA), the Indiana Veterinary Medical Association (IVMA), the Central Indiana Veterinary Medical Association (CIVMA), and the Purdue Veterinary Alumni Association (PVAA). He recognizes the importance of organized veterinary medicine and has a true appreciation of the value of the highest medical standards. He has served on the Executive Board of the CIVMA as a Member-at-Large.
With two Aggies already in the practice, it seemed high time for a doctor who could proudly declare: Boiler Up, Hammer Down, and Hail Purdue!
 
Dr. Katherine (Katie) Becker
Dr. Becker was born and raised in Evansville, Indiana, growing up the child of her veterinarian father. Following high school she attended Purdue University in West Lafayette where she graduated with a Bachelor of Science in Animal Science in 2014. She then earned her Doctor of Veterinary Medicine from Purdue in 2017. After graduation she worked in Crawfordsville, Indiana, for one year before deciding to move to the Indianapolis area with her husband, Tim. They currently reside in Hamilton County.
Dr. Becker's largest interests in include ophthalmology, dermatology and dentistry. She particularly enjoys the opportunity to teach and to work "one-on-one" with clients.
In her free time she enjoys spending time with her husband and their dog Riley.  She and her husband are also very involved in their local church. She also enjoys painting, home projects, reading, and spending time outdoors. In the summer she enjoys spending time with her family at Dale Hollow Lake in Kentucky. 
You can contact her at drbecker@fallcreekvet.com.
Dr. Ernest Harshman
Dr. Ernest (Ernie) Harshman is an Associate Veterinarian from the Northside of Indianapolis Indiana.  He graduated from Purdue University.  Dr. Harshman has an American Foxhound named Ranger and an Irish Setter named Wrigley.  He is a sports fan, and his favorite teams are Purdue, Colts, Cubs, and Pacers.  Dr. Harshman enjoys boating, grilling, golf and spending time with friends and family.